Record numbers of students to join Brayton Academy this September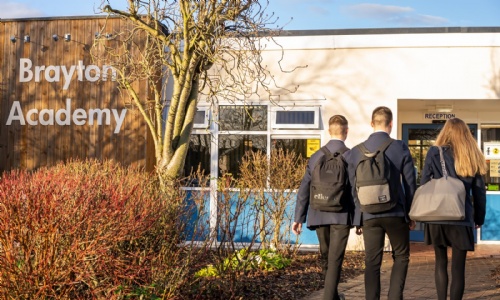 The number of students and families choosing Brayton Academy as their first-choice secondary school has reached record highs.
Secondary school places (for Year 7 students starting in September 2023) were allocated on Wednesday 1 March 2023 as part of National Offer Day.
Brayton Academy received its highest number of first-choice places in its six-year history, which will see the next Year 7 cohort becoming the largest year group in the Academy.
Al Moon, Principal at Brayton Academy, said: "We were asked by the Department for Education to provide a school for our local community, and we've worked hard to do this over the last six years.
"We are so pleased that local parents and carers have recognised the hard work that has been put in to make Brayton Academy one of the highest performing secondary schools in North Yorkshire.
"The Academy and the Rodillian Multi Academy Trust have been committed to investing in students, staff and the fabric of the building to ensure we provide the best learning environment to make a difference to our student's lives.
"We would like to thank our local community for their support over the last six years, and we are focused on continuing to improve and grow."