Brayton Academy Readathon buys books for children in hospital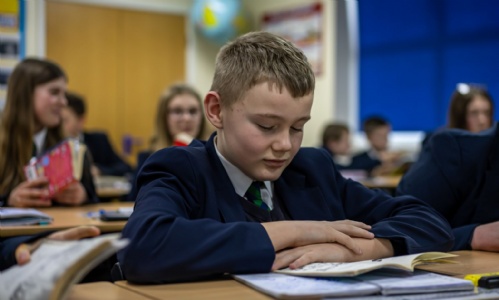 Brayton Academy students took part in Read for Good's national readathon, raising money to buy books for children in hospital.
The readathon took place between 27 February to 5 March, and saw students in Year 7, 8 and 9 choose their own reading challenge. From reading for a set amount of time to reading a number of books or pages, the students were sponsored by their friends and family as they reached their targets.
In total, students raised an incredible £535 which was donated directly to Read for Good and will buy brand-new books and visits from professional storytellers for children in hospital.
Al Moon, Principal at Brayton Academy, said: "The sponsored read is a national initiative by Read for Good which has been running in schools across the UK since 1984.
"Students were motivated to read what they love, raise money to help seriously ill children and at the same time earn free book vouchers for their school.
"Well done to all students who took part, and their friends and families who donated and supported. A big thank you too to Mrs Bowe for organising the readathon and bringing this back to Brayton."
A Year 8 student at Brayton Academy said: "I don't read much normally… I thought if I could take part in this then I could raise money and it might help me read more too."
Find out more about Read for Good's work at: https://readforgood.org.